Greetings everyone,
It has been a wonderful week for us at Dune team with progress on all fronts. As we looked at all the emails and comments, we understand there is a lot of concerns within the community. We hope that in this update we can address those issues you may have.
We would like to start by saying "thank you" to all our backers, potential backers, and sponsors. Your great support for this case made this project happen. Your support has been the strength of the Dune team and has carried us through one of the most challenging times in modern history. The most difficult challenge has not been the manufacturing, but the current affairs and events surround the Dune team in getting the Dune Pro case delivered to your doorstep.
There has been a lot of personal sacrifices that has been made by members of our team to deliver this product. Members of the team have been away from their families for a year and unable to leave China due to COVID restrictions. This is something we didn't anticipate from happening.
Nevertheless, the Dune team is dedicated to get this case out to you no matter the sacrifice and we are determined to push forward and making this case the best case you will experience.
How did we get here?
Before we address the issues, we think it is very import to understand why there has been some delays to this project. There have been immense challenges presented by COVID-19, but the Dune Team has stayed committed. The following are the events that has taken place during the development of the Dune Pro case.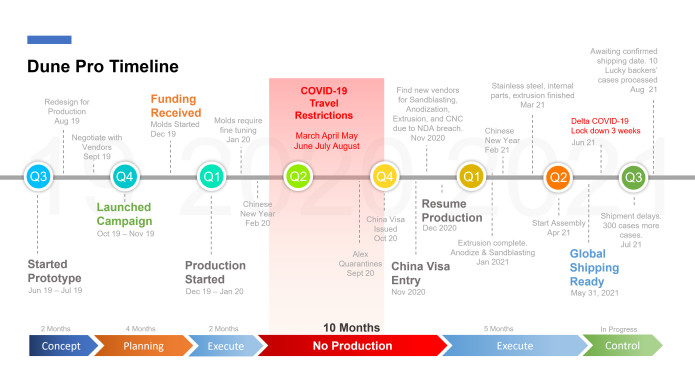 As shown in the above timeline, we have worked extremely hard to get the Dune Pro case out to all of you. We have spent 7 months to complete the production. In fact, we had the vendors ready in the "Planning Stages", but we found out about an NDA breach with one of our manufactures. In the planning stages we set up all the appropriate manufactures and they were ready for the production once we received the funds to move forward. Within the 4 months of planning, we were able to source the manufactures, conduct testing and prototyping. We also were able to travel to the United States meet with Key Influencers in the PC industry and share with them the quality of the Dune Pro. This was all funded by shareholders of Dune Case and before we started the campaign.
There has been a lot of concerns about how long we have taken. I hope that if you have the time to look at the details of the timeline, you may realize that we executed in a tight timeframe, and we believe we performed better than average considering the factors that took place. In total, it took us 6 months without the Chinese New Year holiday to complete the Dune Pro case. Honestly, the team was working long hours since we got back into China in November 2020. In addition, we had to quarantine twice to get into China. It was quite a journey, but I hope that the timeline can give you an understanding briefly of the events that took place during the last year and how much effort we did to make this work.
Towards the end of the production the finish line was near, and we thought there wouldn't be any issues with shipping. We placed a booking for the container in April scheduled for end of May. Then during May, Delta COVID hit the manufacturing areas and a few of our factories were affected. We couldn't believe it. Then to our surprise the shipping was affected as well with the ports closing for a month.
At the end of all this, we are quite happy with the results of what we had accomplished during this journey and once the Dune Pro cases are out this will just be the beginning for the Dune Team. 
Shipping Update
All Dune Pro Shipments, excluding shipments within China, depart from the Yantian International Container Terminals, located in Shenzhen, Guangdong. During April 2021, we schedule a container for the end of May 2021. Since then, we have not yet received a confirm booking date on when we can expect to have a container. However, as some of our backers know we have been in contact with several vendors regarding an earlier date. With our current shipping company, we have been advised that in October 2021 there will be containers readily available and could get a confirm shipment date in the coming week. This is great news, and we will give everyone an update next week with hopefully a confirm booking date for the container. Wish us luck! Alternatively, there are two other agents we have been in contact with that's has promised earlier dates and could deliver in September. We need to verify these agents. We will keep you all informed in this next coming week. 
Shipping - 3PL (Third Party Logistics)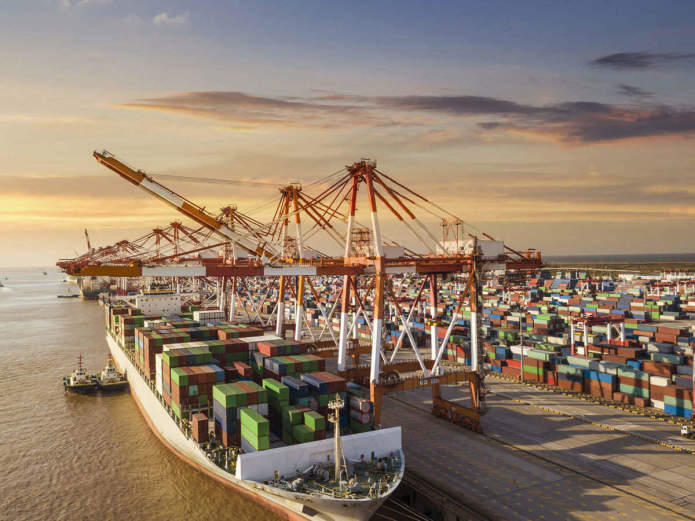 We are using a 3PL (Third Party Logistics) to ship the Dune Pro to our backers. Some backers have asked why we are using a 3PL rather than a Courier Service. While a Courier Service is effective on a small scale, the price on a large scale is astronomical. Therefore, we have always planned to use a 3PL which is a standard operation when distributing bulk shipments. A 3PL organizes the shipping through multiple logistics companies. Below are the key points a 3PL arranges:
China:
Organizing a truck to pick up units of the Dune Pro from the factory.

Storing units of the Dune Pro in a warehouse and organize a shipping container.

Adding shipping labels and loading units of the Dune Pro onto the dock.

Dune Pro units exit China to the destination port.
Destination Country:
Inventory counted at the destination.

Storing units of the Dune Pro in a warehouse and arrange local logistics companies to do the local shipment.

Local shipment completed; Dune Pro arrives at backer's address.
We would like to thank you all personally for your patience. We understand your concerns and hope that through this update it has given you a better understand of how long it took us to develop the Dune Pro case.
If you have any further questions, please reach out to the Dune Team via email, info@dunecase.com, or via Discord. We are hosting Q&A Sessions every Sunday allowing backers to talk to the Dune Team to ask your questions. You can join our Discord Server here: https://discord.gg/fPRKFDD
Many thanks,
Dune Team