Good things come to those who wait  (Travel restrictions may be lifted in June)
It has been a challenge. You backed a campaign and you haven't got your product yet. You start reading horror stories of other failed campaigns. You start reading negative comments from a small group of backers and the list goes on. You have come this far and it is a struggle to keep the hope alive. There is doubt. Then you ask yourself … "why did I back this project?", "why is the Dune Team giving updates?", "why do they have call's every few weeks with their backers?", "are the problems real?", "why are they waiting?"
We are not going to explain the answer to those questions as we have addressed this many times in the pass. But what we do know is that our backers had to courage, hope and belief in a PC case that will be truly a quality product. They believed in the Dune Team's ability to make this happen. It is this courage, hope and belief in our team that has given us energy to push along these challenging times. It has been a few months in waiting but there has been good news in the last week that has given us hope that the situation in China and Hong Kong has improved.
During the last week, schools in Hong Kong have made announcements that students will be back at school during the first week of June. We have also been told that travel restrictions may be lifted during the first week of June. These are all positive feedback. The Dune team has made plans for the first week of June to start production if the travel restrictions have been lifted. Also, 2nd June Bali International airport will be back in operation and Alex will be able to leave Indonesia to China. It has been a long time, but good things come to those who wait and we are excited to finally push things through.
What's Next …
We have promised to all our original backers a bonus gift, development of Dune Pro casters, packaging updates and production timeline. Since we have heard the news of possibilities of starting production in June we are in the process or realigning our schedule and will have updates on these developments in the near future.
In addition, the Dune Team wants to hear from you. We want to answer any questions you may have and have set up a Facebook live feed for Friday May 22, 2020 10am (EST). We would like to ask as many people as possible to join our live discussion and to like / join our Facebook page to get the latest updates. The details are the following: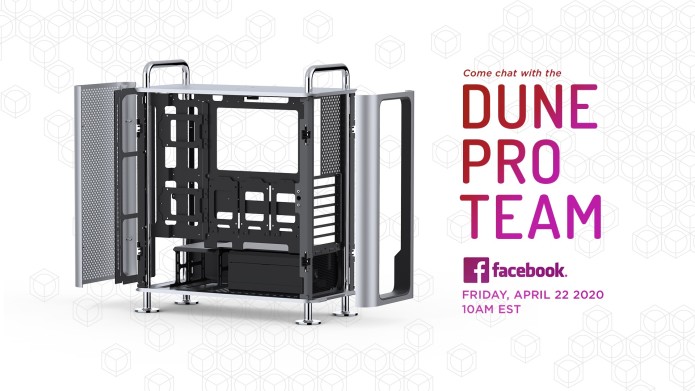 Dune Team Q&A Live
Friday 22 May, 2020
10am (EST)
Facebook Live: https://www.facebook.com/dunecase/posts/1122145524810113
Facebook Page: https://www.facebook.com/dunecase/
Once again, we thank you all for your patience and support for the Dune Pro Case. The situation is looking quite positive and we hope that Dune will continue production in June.
Many Thanks,
Dune Team